In Spain, virtually all discussion about men's rights has something to do with the current legislation on gender violence. And for a very good reason: our equivalent to the Violence Against Women Act (the LIVG) is one of the most aggressive and feminist-inspired in the world. A man can be arrested up to 72 hours without any evidence, if a woman he is or has been involved with accuses him of domestic violence, psychological abuse or even if she claims to be afraid of him. The police will go look for him wherever he is (workplace, home…) and will arrest him and keep him locked up until the judge (a specific kind of judge who has received "training" on gender violence) determines if he is innocent and can walk away, or if he gets a restraining order.
Ex-wives (or ex-wives-to-be) often use this knowledge against him, and will report him on Friday evenings, knowing that he will be forced to spend the whole weekend in prison. There is a whole system built around this, and everybody gets money. Public defenders often advise these men to plead guilty. It's better to walk away today with a restraining order, they say, because it's going to be almost impossible to prove his innocence when it's your word against hers. Women who are considering a divorce, or whose husbands want to divorce themselves, are often advised by feminist associations and legal advisors to report gender violence to the police: in this way they guarantee that the husband will be forced out of the family home, and it will be much more difficult for him to defend himself in the divorce case or to get a fair custody agreement. These false accusers get a monthly pay, free legal aid and other social benefits, and feminist organizations get sweet, sweet State funds.
This situation is being hidden from the public opinion. In the news, we get nothing but murdered women and women whose evil ex-husbands (loaded with previous domestic violence reports) are trying to take their children from them. No mention of men murdered by female partners, which are not scarce either. The number of false or withdrawn claims is overwhelming, but the authorities make a simple math trick, so the official number is less than 0,01% (something that doesn't happen in ANY crime): they only include as false reports those that have been prosecuted as such (most men who have been falsely accused don't have the money or the energy to prosecute; they risk infuriating the ex-wife again, and they have already seen how much easier it is for her to make his life a living hell).
In any case, very few people dare to speak against this. Only a few judges, politicians and journalists have expressed their disagreement, and most of them have been swiftly removed from their positions. An official report in 2008 concluded, among other things, that this law was offering financial incentives to accusers. The report was withdrawn after feminist complaints. Judge Serrano, who spoke publicly about what was happening inside Spanish courts, lost his position. Since then, he has written La dictadura de género ("The Gender Dictatorship"), denouncing all of this.
But I'm here to tell you about a different project. Francisco Lario has recently written a book on false reports (which I hope to translate into English at some point), entitled La celda de los inocentes ("The Cell of the Innocent"). After 3 years of interviews, he has collected testimonies of 30 falsely accused men and some women (their mothers, current partners, etc.). These are detailed and heart-breaking accounts of men who were taken away from their homes and children, locked in prison cells, scorned by judges and police officers and played by their former partners out of spite and hate, and sometimes just for money (some of the victims have been duped by serial scammers who make a job out of seducing men, marrying them, falsely reporting them and keeping what they can). These are terrible testimonies of broken men who are trying to fix themselves and get back to the fight, men who have finally seen and understood that with this legislation, men and women are not equal under the law. The book also contains accounts of judges, police officers and lawyers, and an instruction manual for men who have been falsely accused. As soon as it was published, police officers started taking pictures of themselves with the book, to show their support and their disagreement with the work they are forced to do.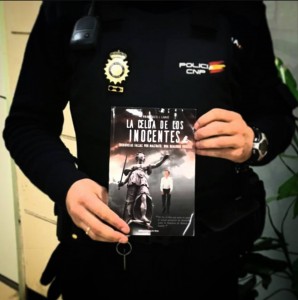 Now, after the second edition of the book has been published, Francisco Lario has joined forces with Tomás Aceituno, a film director who recently made a film about false reports (Guilty). They are planning to turn The Cell of the Innocent into a movie, and they started a crowdfunding campaign a few days ago (I'll leave a link) I wish them all the luck in the world, because until this reality is literally paraded in front of people's faces, it won't be addressed as an issue by anybody. It will continue to be swept under the rug.
http://www.lanzanos.com/proyectos/la-celda-de-los-inocentes-la-pelicula/





by