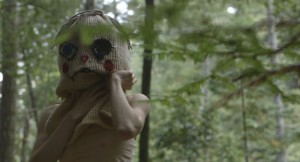 Amy Everson is a feminist artist, and like most feminist artists she is a narcissistic asshole with a victim complex. To call feminist artists, artists at all is an insult to people who love and respect the craft of creating art in the first place. Most art is meant to provoke an emotion from the viewer, but feminist "art" in it's own way bullies people to a specific emotion.
Feminist Art expects a specific emotion from the start, and if you don't feel that specific emotion, you are considered an asshole for doing so. Which is why men should avoid feminist art shows period, or anyone for that matter. It is nothing short of a trap.
If the men in attendence like the myriad of painted vaginas, it plays into the feminist paranoia about men being obsessed with women's bodies. If they say that they dislike the pieces commenting on rape, their feelings of being uncomfortable can be interpreted as that of a narcissitic male being forced to recognize rape culture for the very first time.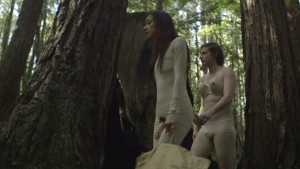 Knowing this, Amy Everson's semi-biographical film "Felt," can be expected to be this kind of insanity turned up to eleven. Any sane human being who watched the movie trailer, would assume that this was the story of a man-hating serial killer.
The first couple of seconds of film shows Amy Everson (who of course is playing herself in a movie about herself) talking about the evil nature of men, and how they simply don't respect women. It is a completely unambiguous assertion on her part. It is not assumed that maybe she thinks some guys are good. To her, men are scum until proven otherwise.
So what is an angry entitled feminist artist to do when things get hard, and they are emotionally wounded? Does she get therapy, and maybe some much needed medication? Of course not, she makes creepy human suits made from flesh colored cloth that reflect the way she sees men, in an attempt to gain their power.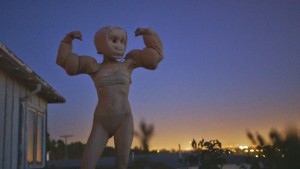 Instead of trying to understand men, Amy Everson, with her shallow one dimensional understanding of the male gender, proceeds to have what can only be described as a hysterical fit and makes a film about it. A fit where she puts on creepy male suits with fake penises, exhibiting her own ignorance and immaturity on the silverscreen.
From the reviews that currently exist, FELT promises to be a two hour look into the mind of an irrational paranoid delusional feminist nutjob. However several movie critics are praising Amy Everson as a "Feminist superhero" and proclaim that the movie "Gives rape culture what it deserves." But I have a feeling that as with all batshit crazy feminists, the makers of this film will have such a lack of self-awareness, that the film will be practically writing an advertisement for the men's rights movement in big shiny letters.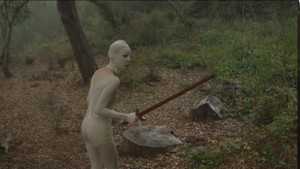 Why you ask? Because in being a paranoid delusional psycho, this woman reduces men down to their genitals, muscular physiques, and scary faces. It represents men as powerful figures whose power is only based in perception. It only exists on a grand scale in the minds of delusional mentally ill feminists, and the only empathy that can be had for this girl is that she's completely unable to understand the nature of real people and their interactions outside of her paranoid delusions and theatrical hysterics.
It should be noted that this woman's art, while horrifying in the daylight, takes on another level of disturbing the moment you give it dark moody lighting. She does not strike me as a sane person, and it is my hope that as these kinds of women continue to seep into the mainstream, that people will not only take notice but call these people on their bullshit.
Now I haven't watched this film. I've only seen the trailer, and gone to this woman's website, the film's website, and read the number of reviews from people who have viewed the film. I will watch this film the moment it becomes available, and tell you my thoughts on it. While I can not guarantee that I can be entirely unbiased, I will try to be fair as I've seen my share of indie art films with moody lighting.
My predictions for this movie are as follows. Crazy feminist experiences sexual trauma, then projects the actions of that man on every man, poisoning all of her relationships. She being a horrible person, attracts equally terrible people, and then uses her interactions with those people, to paint all men with the same brush. From those paranoid delusions she starts viewing all men as monsters and then makes male monster suits, and parades around in those, hoping to torment men. Then she tortures the one man she meets who isn't a complete asshole and he gets frustrated and leaves. But the movie will portray it as proof that all men are assholes, and end it with Amy regaining her strength and empowering herself. Perhaps we should see what the betting odds are on this?
Relevant Links
http://birthmoviesdeath.com/2014/09/21/fantastic-fest-review-felt-gives-rape-culture-what-it-deserves
Latest posts by Rachel Edwards
(see all)





by