In a word: No. We don't need it.
No straight person asked for this day. Our lives are not enhanced by this day, and we see it for what it truly was meant to do: Piss off the Progressive Left. And yet, perhaps there is some value to this day as to why we should keep it.
As best as I can tell, this day was started a year ago. I cannot find its actual origin, but likely was done as a means to get people to state why the world didn't need it. As best as I can tell, nothing came of this hashtag last year, but this year… twitter exploded with hate.
#HetrosexualPrideDay do you want homeless shelters for billionaires too? How about white supremacy day too whilst we're at it?

— Ol (@ol_edwards) June 29, 2016
The hashtag #HeterosexualPrideDay is like the hashtag #AllLivesMatter
You took something that people find strength and are bashing it

— going ✈️ sickomode (@g0ddys) June 29, 2016
Guess those "thoughts and prayers" after #Orlando had an expiration date #HeterosexualPrideDay pic.twitter.com/oZeVVicZf4

— Xorje Olivares (@XorjeO) June 29, 2016
Within a short time, this hashtag hit the number 1 spot for trending hashtags, to the point that twitter removed it from auto-correct and from the list of trending hashtags. Most of what is talked about is how people dislike this day and how it shouldn't exist, or that it exists everyday already.
For me, I saw this as a joke. There was no secret heterosexual meeting of us deciding it was our time to fight back, and as far as I could tell, someone just made it up one day. The entertainment is watching the justifications as to why people felt this day was wrong and throwing around hateful tweets… tweets that if I said about them, I would be banned on twitter for the rest of my life.
That was until I saw a very important tweet that made me rethink this.
I'm sure straight men are tired of being called rapists, but ehhh…#HeterosexualPrideDay#HowToSpotAFeminist https://t.co/agGse0NS2Y

— Lauren, Literally ⚜️ (@JustLaurenB) June 29, 2016
Now there is an argument on this hashtag about what Gay Pride was all about.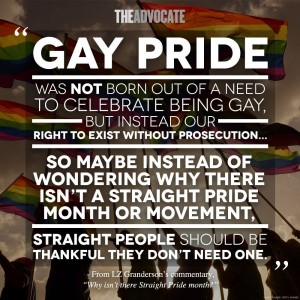 This poster has been making its rounds today, but the basic argument is that Straight People haven't ever been discriminated, they haven't ever been oppressed, so they do not need to have a Pride day.
OK, it makes sense why the first Gay Pride Day was established. But today, Gays have as much freedom as Straight People, especially when the Supreme Court of the US ruled that Gay Marriage is a federal right. If they are no longer oppressed, why continue to celebrate it?
More than that, is it really fair to say that Heterosexuals don't face discrimination or oppression? At first glance, it might be easy to say we don't. Our laws seemed to be centered around heteronormaltivity, that if you are straight, you gain access to many different benefits that gays don't have. But that is part of the problem, that being straight is considered so commonplace that when discrimination and oppression does happen, it is ignored in favor of those with a great victim or threat narrative.
As Heterosexuals, specifically as Men, we face a lot of problems in the world that if we were Gay (and it was obvious looking at us that we were), the problem would disappear. Say if a father takes his daughter to the park, some would assume the man is a pedophile trying to snatch a child, or go to up the girl and ask if she knows who the man is. If he was flamboyant, likely the mothers in question would praise him for adopting a child.
In our world today, Straight Men are seen as rapists, pedophiles, fraternity bros, homophobic, misognyist… just because of our sexuality. Here are a couple of tweets I've made about the oppression faced by being straight.
We can be allies to LGBT, but we can't be proud of who we are.

This is oppression we face. #HeterosexualPrideDay

— mad_cat (@GGmad_cat) June 29, 2016
If we don't meet societies standard of beauty, we are automatically seen as creepy.

This is oppression we face. #HeterosexualPrideDay

— mad_cat (@GGmad_cat) June 29, 2016
A man falsely accused of rape is still treated like he's a rapist.

This is oppression we face. #HeterosexualPrideDay

— mad_cat (@GGmad_cat) June 29, 2016
Plenty of scholarships for LGBT, but none for being straight.https://t.co/FltMWrgRa4

This is oppression we face. #HeterosexualPrideDay

— mad_cat (@GGmad_cat) June 29, 2016
If we admit that we are straight, we are assumed to be homophobic.

This is oppression we face. #HeterosexualPrideDay

— mad_cat (@GGmad_cat) June 29, 2016
Straight men are told they cannot be raped, because we have privilege.

This is oppression we face.#HeterosexualPrideDay

— mad_cat (@GGmad_cat) June 29, 2016
I'm not trying to paint a victimhood status of Straight Men. I'm trying to prove a point. If you feel that one can only have a 'Pride Day' if they are subject to discrimination and oppression, then it makes sense to have a Heterosexual Pride Day, because yes, Heterosexual Men do face discrimination and oppression in today's world. Denying that they do is part of the problem.
Perhaps there is room in our lives for a Pride Day for Straights. Everyone deserves a Pride Day. We should be in celebration of who we are, rather than celebrating victimhood status. Here's a few more tweets from those in support of today.
https://twitter.com/DisTurqLlama/status/748218034897227777
#HetrosexualPrideDay if us fags are allowed pride, why can't the straight folk

Grow up, you hetrophobics

— May 31st [HRST] (@Vermontious) June 29, 2016
https://twitter.com/TrolllJamie/status/748067953929641984





by